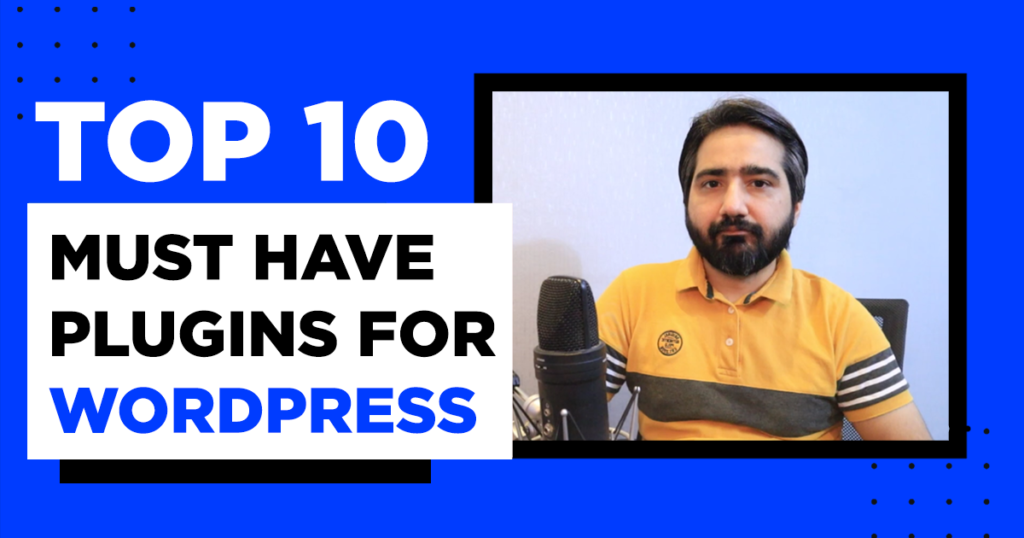 Are you starting a new WordPress website and thinking about what plugins to install to make your website secure, fast, and more efficient? If the answer is yes, then you have landed on the right post. In this article, we will discuss some must-have plugins for every WordPress website.
1: First Thing First, The Security.
The security of your website must be the priority. According to a report on Forbes, On average 30,000 new websites are hacked every day. So your data is at risk right after making your website public. 
There are 2 major plugins available to secure your WordPress website. 
WordFence provides a web application firewall and malware scan. iThems security plugin gives you 30+ further ways to protect your website.
You can install any one of them or both if needed. Let's install and check the basic setup of both plugins.
2: The next step is to optimize the performance.
When all security masseurs are taken you should make sure that your website loads fast for the end-user. Because slower websites are the reason people leave your website and they are also not loved by search engines such as Google.
You can optimize your website by installing cache or optimization plugins such as 
And unlike security plugins, you should not install multiple optimization plugins. Pick one that suits your server environment. 
3: After securing and optimizing your website, let's improve the SEO.
To get attention in Search engines, you need to optimize your website pages and posts for search engines. There are 4 major SEO plugins for WordPress.
Just like cache plugins, you need to choose 1 plugin. I suggest the Rank Math plugin, it has a lot of features that are available for free comparing with other competitors. And the interface is more user-friendly.
4: Now that our website is secure and optimized, let's make a restore point.
Backups are life savors! Despite making sure you have secured your website, there are still risks because we can't be 100% sure that it will never get hacked.
Or sometimes your website crashes due to a plugin or a theme update. So you must make sure that you are creating regular backups of your website. Updraft is a very popular website backup plugin for WordPress.
5: Always use maintenance mode when making changes.
If you are making some changes to your website design or adding some new features. You should always use a maintenance plugin to avoid displaying any errors to the visitors. Because sometimes you may reveal sensitive data about your server to the public which can be used by hackers against you. WP Maintenance Mode is your next must-have plugin. 
6: Add Tracking Codes the Proper Way.
When you want to connect some 3rd party services like Google Analytics, Webmasters, Facebook Pixel, Adsense. Or any kind of service that asks you to insert some code into the header or footer of your website.
Then you should never edit the theme files directly and add the code. Because when the theme gets updated all the custom code you have added will be lost. You can add custom codes safely by using Insert Headers and Footers WordPress plugin.
7: Privacy is everyone's concern.
Various plugins and services integrated on your website uses cookies to store some information of the users. You should display a public notice to the visitors and explain that you are using cookies and what information you will store and how it is used. 
And if your website has traffic from the EU region then you must display this notice or you can get some legal troubles because of the European Data protection law. We will use the CookieYes plugin to display GDPR notices on the website.
8: Emails are an essential part of every website.
Emails are the most important feature of any website. Your WordPress website sends a lot of emails including registration emails, contact form submission emails, or order emails if you are using WooCommerce.
But the problem with the default email sending feature available in WordPress is that sometimes your emails are sent into the SPAM. Or sometimes they are not delivered at all.
So you must use a better SMTP plugin to ensure that your emails are getting delivered. Fluent SMTP is the most simple and feature-rich plugin without any paid upgrade.
WordPress has a default login and signup feature. Users can create an account on your website, but almost all the websites have social login and signup features.
You should add this feature to your website as well, so people can create accounts with their social media profiles on your website. Nextend Social Login plugin can help you achieve that goal.
10: Now the last, but not the least.
When running a business website or a blog, you occasionally need to send out newsletters, offers, or promotions. Mailpoet is the best plugin to manage subscribers and send out emails with great control over email content.
Final words: If you have enjoyed the article "Must Have Plugins for WordPress" please share it with the others and if you have some suggestions, please feel free to comment below.